Regular price
Sale price
€99,00 EUR
Unit price
per
Sale
Sold out
Order 10 or more items and get 5% off
Tinymovr R5.2 is the new revision of Tinymovr, with better connectivity, broader input voltage range, and smaller footprint!
Tinymovr is an affordable servo motor controller for brushless motors. It enables operation in position, velocity and torque modes, using Field Oriented Control (FOC). Tinymovr is highly integrated incorporating a 32-bit ARM Cortex M4F microcontroller, power electronics, magnetic angle sensor, CAN, UART, SPI, external encoder and Hall sensor connectivity. Its compact size allows for seamless integration at the back of the brushless motor. Ships with next-gen v1.x firmware.

Specs Summary

Input voltage range: 12.0–38.0V

Max Phase Current: 40.0 A

Connectivity: CAN (2x), UART, SPI, and AUX/Hall Sensor

PCB Dimensions: 40 mm x 36 mm

Weight: 10 g
In the box

Tinymovr R5

Diametrically Magnetized NdFeB magnet
View full details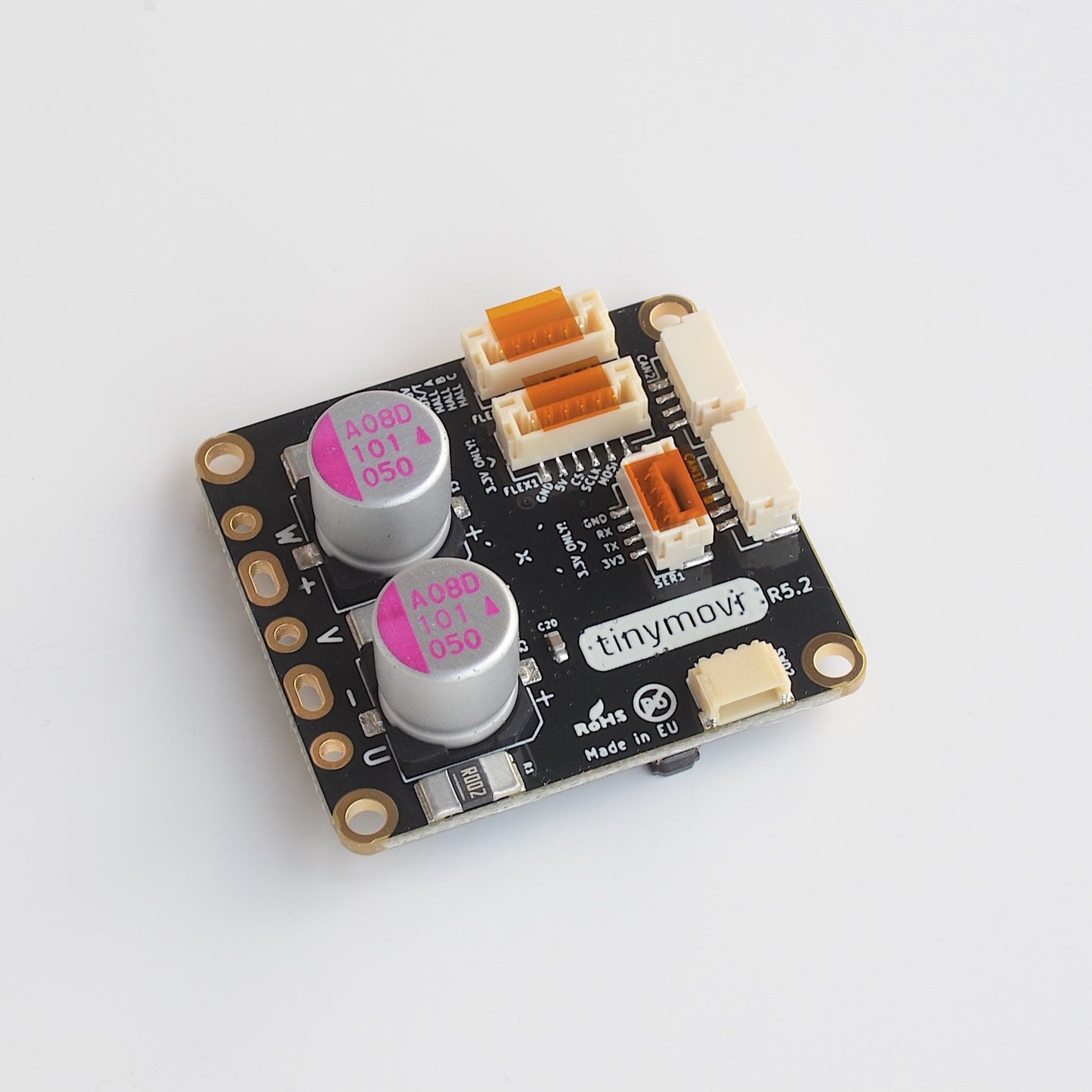 Features
32-bit Cortex-M4 MCU

Tinymovr is equipped with a Qorvo PAC5527, a 150MHz 32-bit ARM Cortex M4F, also featuring integrated gate drivers with safety features, power management, differential current sense amplifiers and an advanced ADC.

Compact Footprint

Tinymovr measures 36 mm x 40 mm, a footprint compact enough to hide behind a 5005 or larger brushless motor. Reasonable component placement leaves ample room for encoder magnet and wiring.

Efficiency & Regenerative Operation

Tinymovr supports efficient power management, including regenerative braking, as well as support for flux braking. The power stage is optimized with the use of low RdsOn MOSfets, efficient polymer and ceramic capacitors, and a carefully designed layout.

Open Source Firmware

Both the firmware that runs on board, as well as client libraries and apps are and will remain open source.

Advanced calibration

Tinymovr characterizes several motor parameters during the calibration phase, including R & L values, pole pair count, encoder non-linearity and Hall sensor sequence. Corrections to encoder readings and current controller gain tuning are then performed automatically.

Easy to setup and use

Tinymovr Studio is a high level Python client that allows easy motor control through an iPython interface, with Extensive documentation. There is also an Arduino Library available for control of multiple Tinymovrs using CAN bus from Arduino.

Trajectory Planner

Tinymovr includes a real-time trapezoidal trajectory planner, enabling it to generate acceleration- and velocity-limited trajectories, as well as time-limited trajectories for multi-axis synchronization.

Hardware Watchdog

Optional hardware watchdog feature to safely disable power to the motor should a communication error occur

20kHz Control loop

Tinymovr uses 20kHz for both PWM and control loop rate, enabling inaudible operation, wide control bandwidth, and conservative resource usage.
Specs
• Input Voltage: 12.0–38.0V

• Max Phase Current (depending on cooling): 40.0 A

• CAN Bus interface 1Mbps with 2x JST-GH 4-pin sockets for daisy-chaining

• Idle power 0.5W

• UART interface with JST-GH 4-pin socket

• SPI interface with JST-GH 6-pin socket

• SWD interface with JST-SH 4-pin socket

• Fully End-of-Line tested

• Designed and Manufactured in EU

• Dimensions: 36 mm x 40 mm

• Weight: 10 g

• Included diametrically magnetized NdFeB grade N35 cylinder (6mm DIA X 2.5mm H / 0.236"DIA X 0.098"H; datasheet here).
Tinymovr Accessories
Regular price

Sale price

€39,50 EUR

Unit price

per

Regular price

From €4,50 EUR

Regular price

€4,20 EUR

Sale price

From €4,50 EUR

Unit price

per

Regular price

Sale price

€1,95 EUR

Unit price

per
Integrations
Python

Tinymovr Studio is a high-level command line interface and Python library for rapid prototyping with Tinymovr

Install package

Arduino

Arduino-compatible C++ library for controlling one or more Tinymovrs through CAN Bus

Browse the repo

Robot Operating System

ROS-compatible Hardware Interface for controlling multiple Tinymovr instances. Differential Bot demo included!

Browse the repo
Need a Tailored Solution?
We can integrate our products with any motor and tailor solutions for specific needs